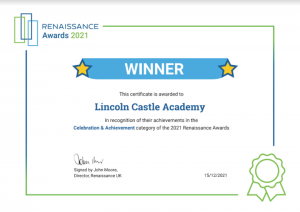 At Lincoln Castle Academy, we have been using Accelerated Reader and STAR assessments for the past four years to develop a reading culture across the school. Each year, we promote and develop challenges to support our students on their reading journey, encouraging students to enjoy their reading at school, and at home.
Over the past three years, we have earned recognition from Renaissance solutions for our commitment to raising reading standards through the use of Accelerated Reader. Firstly, we received a nomination and invite to an exclusive event at Canary Wharf in 2019 – coming runner up in the secondary school category, and highly commended in the project leader category. Following on from this success, Lincoln Castle Academy was invited to become a Renaissance Partnership School, which allowed us to develop ideas and collaborate with other schools to ensure our students received their very best 'reading diet'.
As the pandemic struck, we adapted to remote education and ensured all of our students had the opportunity to have books delivered from the library to their homes, running topical competitions via Show My Homework, making Accelerated Reader 'remote-ready', and ending the academic year with reading-themed gifts and rewards for our top performers – delivered to their homes and enjoyed over Summer. Students responded well, including our virtual World Book Day celebrations.
In recognition of the resilience and versatility demonstrated by our students during this challenging period, the celebration of reading, and the continued use of Accelerated Reader, Lincoln Castle Academy was victorious at the 2021 Renaissance Awards – receiving first place in the 'Celebration and Achievement' category. This is a tremendous honour for our school.